Welcome!
The Great Arizona Puppet Theatre is open year round, performing shows at the theater Wednesday through Sunday. See below for showtimes and to know what is playing at the theater right now. Tickets are available at the theater for $7 for children and $10 for adults . Reservations can be made by calling 602-262-2050 at any time. The theater doors open a half an hour before show time.
This Week At GAPT
Peter Rabbit
Mar 29 - Apr 16, Wed-Fri only at 10am
Sat 10am & 2pm, Sun 2pm.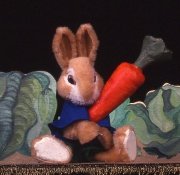 Based on Beatrix Potter's classic story about a little rabbit that gets into Mr. McGregor's garden. Will the farmer find him? Will Peter find his way back to his loving family? Told entirely to music (no words) by lively hand puppets and a large rod puppet farmer. Laughs, suspense and fun, even for those who don't understand English. Recommended preschool - grade 3.
See our full list of shows for more upcoming shows and events.
National Day of Puppetry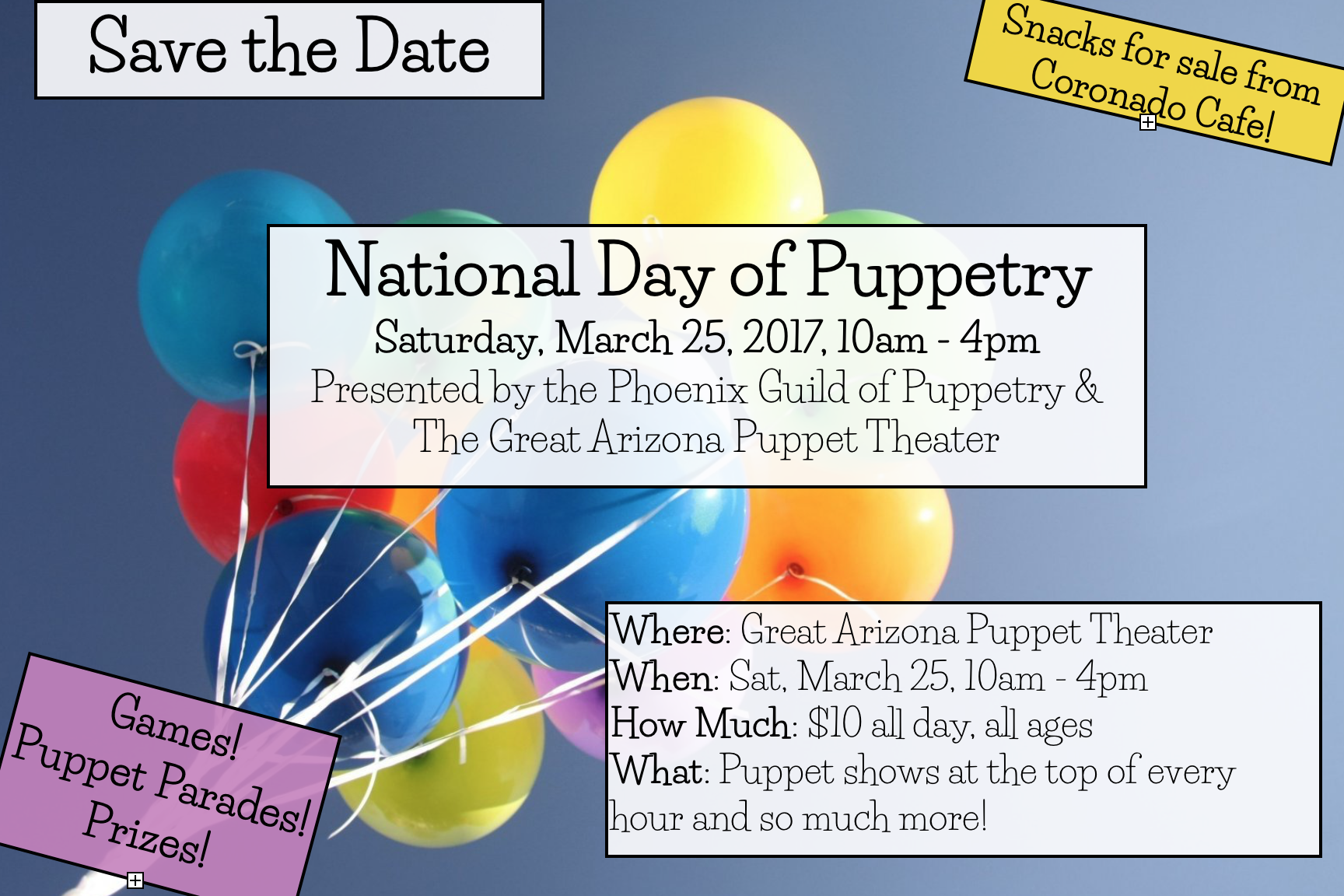 Schedule of Shows - March 25
Doors open at 9:30am. An interactive puppet parade will take place at the top of every show. Ongoing throughout the day there will be face painting, games, and crafts available as well as snacks for sale from The Coronado Cafe.
10am - "The Frog Prince" by Great Arizona Puppet Theater
11am - "Dan Dan the Puppet Man"- Marionettes by Dan Dold
12pm - "Sea of Imagination" by PuppetWorks of Peoria, AZ
1pm - "The Princess and the Pea" by Shaffer Production Arts
2pm - "The Frog Prince" by Great Arizona Puppet Theater
3pm - "A Fishy Tale" - Be a Puppeteer with Vicki Riske
Follow us
Like us on Facebook and follow us on Twitter to stay up to date with all the wonderful things we have happening at GAPT.
User Agent: "CCBot/2.0 (http://commoncrawl.org/faq/)"