Welcome!
The Great Arizona Puppet Theatre is open year round, performing shows at the theater Wednesday through Sunday. See below for showtimes and to know what is playing at the theater right now. Tickets are available at the theater for $7 for children and $10 for adults . Reservations can be made by calling 602-262-2050 at any time. The theater doors open a half an hour before show time.
This Week At GAPT
Cinderella
Dec 27 - Jan 22, Wed-Fri only at 10am
Sat 10am & 2pm, Sun 2pm.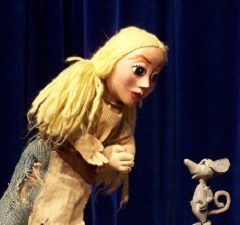 The girl, the prince, the glass slipper! Lots of laughs and special effects make Cinderella an audience favorite. This show was awarded the UNIMA-USA Citation for Excellence in Puppetry. *Sunday, January 22 is a special event, Cinderella's Ball! See below for more event details.* Download the Study Guide Here
Cinderella's Ball
Jan 22, 2pm to approximately 4pm, Special Event.
Dress up like a princess or prince for this very special event! Stay after the show for fun games, yummy snacks, great activities, cool prizes, and very special guests! $15 for adults and children in advance, $20 at the door. $5 off for members! CALL FOR RESERVATIONS!
See our full list of shows for more upcoming shows and events.
Reservations
With the increasing popularity of our shows, it is more important than ever to make sure you have made reservations at least one day in advance. Give us a call and reserve your tickets TODAY! 602-262-2050
About Us
With its soaring, handpainted arches, the Great Arizona Puppet Theater is housed in a beautifully restored historic building across the street from the Japanese Friendship Garden and Margaret T. Hance Park at 302 W Latham St. Phoenix, AZ 85003 We have puppet shows year round at our theater and we tour all across Arizona and beyond. Whether you'd like to come to us for a family outing, a school field trip, a birthday party or if you'd like us to come to you for any occasion, we've got a great puppet show ready for you!
Also, check out the touring page and the parties page to join the party! Remember, you can always call us at 602-262-2050 for more information.
Please Like us on Facebook and follow us on Twitter to stay up to date with all the wonderful things we have happening at GAPT.
Puppeteers of America
The Great Arizona Puppet Theater is proud to be a part of the Puppeteers of America. Please visit the Puppeteers of America website if you are interested in more information about puppeteering or becoming a member yourself.
Valley Metro Arts & Culture Destination Guide
We're happy to be within walking distance of the Valley Metro Light Rail and a part of their new Arts & Culture Destination Guide. Check it out here.
Donate
Great Arizona Puppet Theater is a non-profit professional puppet theater founded in 1983 as a touring company. The theater is open to the public 5 days a week year-round with shows for children and adults and also tours throughout the community with entertaining and educational programs serving a total audience of 85,000 annually, mostly children.We are a 501(c)3 charitable organization. Please click the button to the left if you would like to make a donation or see above for how to donate to us through the Birdies for Charity program and help us recieve an extra 10% from your donation.
Goodshop donates money to our theater everytime you use them!
The Great Arizona Puppet Theater appreciates your continued support and now you can help us even more just by shopping online. Everytime you use Goodshop's online deals, like
Michael's coupons
,
Groupon promos
, and
Coastal offers
, we will receive an automatic donation based on what you spent. It doesn't get much better than that!
User Agent: "CCBot/2.0 (http://commoncrawl.org/faq/)"